Certified natural cosmetics for the hands and nails with valuable Argan Oil. The consistent use of plants, herbs and oils derived from certified organic cultivation enables the certification of the LCN ognx line by the BDIH-certified natural cosmetics (Federal Association of German Industrial and Trading Companies of Medicines, Health Store Food, Dietary Supplements and Cosmetics).
LCN ognx is suitable for sensitive skin as they are free of mineral oils, parabens and silicons as well as synthetic colours and scents.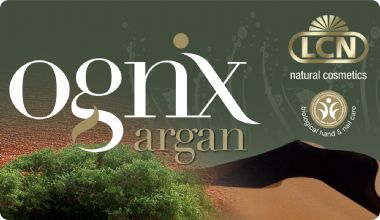 The hands reflect one's entire personality. Day-in and day-out they are exposed to many adverse conditions at home and at work which impair their natural protective shield. This stress accelerates the natural aging process of the skin. The new LCN ognx hand and nail care line has been developed especially to meet the demands of hands and cuticles. Dry and torn skin become supple and soft again and the brittle nails regain their stability. LCN ognx is a special care line for sensitive and dry skin.